10 Tips for Picking Paint Colors
Why do we find one place appealing and are uneasy in another? Why are we attracted to one product over another? Color—whether architectural or in products—accounts for 60 percent of our response to an object or a place.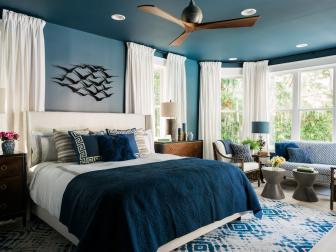 See how a color palette combining a rich navy blue with pure white accents makes this master bedroom an ideal space for resting and relaxing.
The "buzz" about color is usually called "color psychology." But the effects of color are subtle and significant; physical and psychological. Color use is not something that results in a definitive equation between "color and our moods," as is a currently popular expression. Wherever we go we respond to color, but the importance of color is often underestimated. Color use is important to us personally in our homes and in the places where we work.